Game Drift Linux - welcome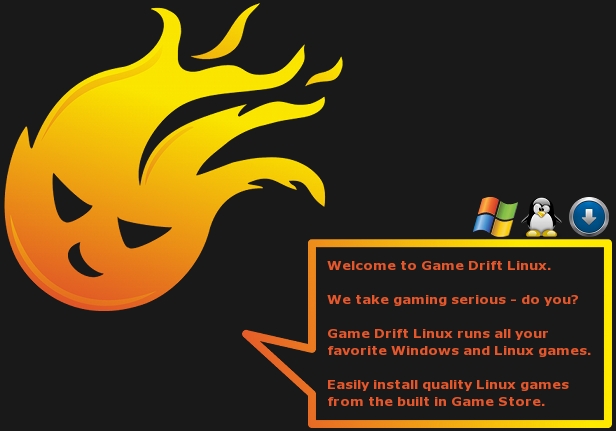 Game Drift Linux was first released in 2011. Back then making games run on Linux was a real challenge, and Game Drift Linux solved that by creating the first "App Store" for games on Linux, and made more than 1.200 Windows games available through our deal with Codeweavers which allowed us to include their CrossOver technology in Game Drift Linux.
Here are a couple of articles about Game Drift Linux:
Game Drift Linux review
Could this be the first truly viable Linux-based PC gaming OS? Russell Barnes takes Game Drift for a spin.
7 Best Linux Gaming Distributions
Game Drift Linux is optimized to give the best possible gaming experience on Linux. It provides out-of-box support for Linux and popular Windows games.
11 Best Linux Gaming Distros You Need To Use In 2018
Game Drift Linux is created for hardcore gamers. A relatively newer distribution, it offers a pleasant gaming experience, thanks to its Game Store and CrossOver Games platform.
Best Linux Distros for Gaming in 2018
Based on Ubuntu, this distro would be perfect for beginners that previously used Ubuntu. Easy to install and everything works out of the box.
You can also visit our
old website here
.
Today we have PlayOnLinux, Stream, and more games available in most package managers. This pretty much eliminates the need for a dedicated distribution like ours.
Therefore, Game Drift Linux is no longer being maintained.
If you like, you can check out some of our other work here:
Sitemagic CMS
A popular Content Management System known for its built-in designer.
Fit.UI
An Object Oriented framework for building JavaScript based applications and user interfaces.